Restore Your Smile with Dental Bridges in Burlington, ON
Dental Bridges
Are you seeking a lasting solution to replace missing teeth and regain your confident smile? Look no further than Maple & Mapleview Dental in Burlington, ON. Our expert dental team specializes in offering high-quality dental bridge solutions that are designed to seamlessly restore your dental aesthetics and function.
What is a Dental Bridge?
A dental bridge is a fixed (non-removable) dental appliance that serves as an effective solution for replacing missing teeth. With various bridge options available, our skilled dental professionals at Maple & Mapleview Dental will work closely with you to determine the best approach for your specific needs.
The most common type is the "traditional bridge," typically made of porcelain fused to metal. This type of bridge comprises two crowns that are placed over anchoring teeth (abutment teeth) and are connected to artificial teeth (pontics), effectively filling the gap left by missing teeth.
The Benefits of Dental Bridges
Dental bridges offer a multitude of benefits that extend beyond just filling the gaps in your smile:
Durability and Longevity:

Our dental bridges are crafted using high-quality materials, ensuring longevity and durability. With proper care, they can last for many years, making them an excellent investment in your oral health.

Preservation of Facial Shape:

Missing teeth can lead to changes in facial structure and shape over time. Dental bridges help maintain your natural facial contours, preventing the sagging or sinking appearance that can result from tooth loss.

Prevention of Teeth Drifting:

When a gap is left by a missing tooth, adjacent teeth may begin to shift out of position. Dental bridges effectively prevent this drift, helping to maintain proper dental alignment.

Restored Chewing and Speaking Ability:

Missing teeth can compromise your ability to chew and speak comfortably. Dental bridges restore your oral functionality, allowing you to enjoy your favorite foods and speak with confidence.

Enhanced Aesthetics:

Beyond functional benefits, dental bridges are carefully designed to match the appearance of your natural teeth, ensuring a seamless blend with your smile.
Upgrade to a Confident Smile with Dental Bridges
Whether you've lost teeth due to injury, decay, or other reasons, dental bridges offer a comprehensive solution to restore both the aesthetics and functionality of your smile. Our experienced dental team at Maple & Mapleview Dental is dedicated to delivering exceptional results that enhance your quality of life.
Book Your Dental Bridge Consultation Today!
Are you ready to regain your confident smile and experience the transformative benefits of dental bridges? Book an appointment with Maple & Mapleview Dental today. Our friendly team is here to guide you through the process, discuss your options, and create a personalized treatment plan tailored to your needs. Don't let missing teeth hold you back – take the first step towards a radiant smile by booking your appointment now. Your journey to a complete smile starts here!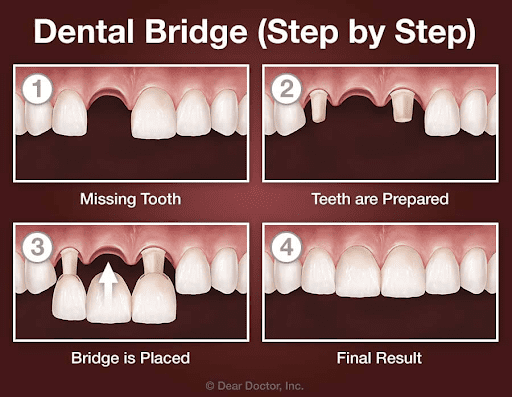 Schedule an Appointment At
Maple Dental Office
Click here to learn more
Schedule an appointment at
Mapleview Dental Centre
Click here to learn more
Schedule your appointment Now