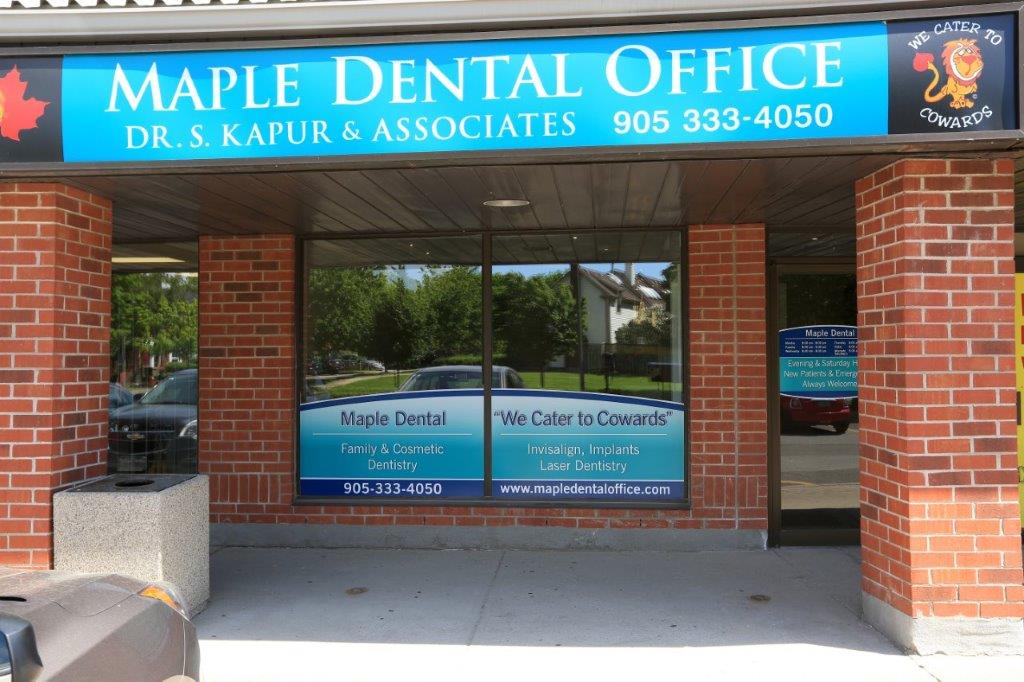 Welcome To
Maple Dental Office
573 Maple Ave. #5
Burlington, ON L7S 2E8
Phone: 905-333-4050
Fax: 905-333-1603
Email: maple@maple-dentistry.com
Hours
Monday: 9:00 AM – 8:00 PM
Tuesday: 8:00 AM – 5:00 PM
Wednesday: 8:00 AM – 8:00 PM
Thursday: 8:00 AM – 3:00 PM
Friday: 8:00 AM – 2:00 PM
Alternate Saturdays: 9:00 AM – 2:00 PM
Accepted Methods of Payment:


Eve Daren
September 29, 2022.
When I first visited Dr. Kapur of Maple Dental Office, it had been a while since I'd been to a dentist. I arrived with fear regarding the outcome and was sure it was going the HURT. I was surprised that addressing my fears was not painful at all. The very professional staff went of their way to be welcoming and Dr. Kapur was knowledgeable and gentle. Now my mouth is in good shape and I am reminded that a smile is priceless.
Ron Cameron
September 26, 2022.
A ++++++ Dental care Professional caring engaging I highly recommend visiting I've been a long time patient and have been taken care of from reception to the chair amazingly. !
Achala Kapur
September 25, 2022.
I'm always amazed by the service I receive and the technology they use. Truly a wonderful experience!
Amaya Mocha
September 14, 2022.
I have been very fortunate to have had a lifetime of positive experiences with Dentists; but this place is in a whole other category. I have never felt more welcome and at ease than I did at Maple Dental. The staff are all super friendly and personable and Dr. Kapur is hilarious! They have such incredible technology there, and offer things I have never seen at other Dental offices. My family is in great hands at Maple Dental Office. I cannot wait for my next visit!
sonia singh
September 2, 2022.
Very friendly and quick
Erfan Dana
August 30, 2022.
I highly recommend Maple Dental office for those of you looking for a dentist.
CONCIENCIA INTEGRAL
August 24, 2022.
I had a dental accident during my trip in canada and fortunately, I hired a travel assistance, they took care of scheduling my appointment at the office. The entire service has been phenomenal. The assistants smiling, friendly and clear at all times about the procedures. The professional, friendly Dr, and super fast when doing the necessary procedure. I am very grateful and I feel lucky to have been treated with them. Greetings from Mexico 🙂 Gaby Ruiz
Kevin Devereuc
August 17, 2022.
Excellent, punctual service every time I have an appointment. Total professionalism with a truly caring staff. N one looks forward to seeing a dentist but they make it worthwhile with their knowledge and state of the art equipment. Cheers!!!!!