Achieve Your Dream Smile with Invisalign in Burlington, ON
Burlington Invisalign Dentist
Are you seeking a discreet and effective way to achieve the straight, healthy smile you've always wanted? Look no further than Maple & Mapleview Dental, your trusted Invisalign destination in Burlington, ON. Our experienced Invisalign dentists are dedicated to transforming your smile using advanced orthodontic techniques that prioritize your comfort and lifestyle.
What is Invisalign?
Invisalign is a revolutionary orthodontic treatment that allows you to achieve a straighter smile without the use of traditional brackets and wires. Our skilled Invisalign dentists at Maple & Mapleview Dental utilize this innovative technique to move your teeth into their desired positions with minimal disruption to your daily life.
How Does Invisalign Work?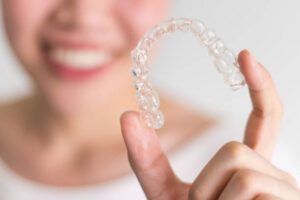 The beauty of Invisalign clear braces lies in their predictability and comfort. Here's how the process works:
Virtual Simulation:

Even before you start your treatment, you'll get a virtual sneak peek of your future smile. Our advanced technology provides a simulation of your "after" smile, giving you a clear idea of the results to come.

Personalized Treatment Plan:

During your consultation, our dentist will examine your teeth and create a tailored Invisalign treatment plan for you. Our cutting-edge digital scanning technology replaces messy impressions, ensuring precision and comfort.

iTero Digital Impression System:

At Maple & Mapleview Dental, we use the state-of-the-art iTero scanning system, which offers a mess-free and comfortable alternative to traditional impressions. This technology creates highly accurate, 3D digital models of your smile, enabling us to design the most effective Invisalign treatment plan.

Projected Smile Transformation:

Our advanced technology doesn't stop at planning. With iTero's CAD/CAM capabilities, we can project how your smile will look after completing the treatment. This means you can visualize your future smile before you even start!
Why Choose Invisalign at Maple & Mapleview Dental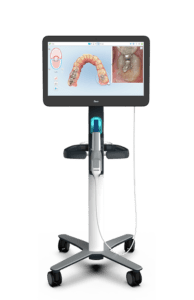 Discreet Treatment:

Invisalign aligners are virtually invisible, allowing you to straighten your teeth with confidence and minimal impact on your appearance.

Comfort and Convenience:

The smooth plastic aligners are comfortable to wear and can be easily removed for eating, brushing, and special occasions.

Predictable Results:

With our advanced technology, you'll have a clear understanding of your treatment journey and the final results.
Book Your Invisalign Consultation Today!
Ready to embark on a journey towards your dream smile? Book an appointment with Maple & Mapleview Dental today for your Invisalign consultation. Our expert team is here to guide you through the process, answer your questions, and create a customized treatment plan that aligns with your unique needs and goals. Your path to a beautifully aligned smile starts now!
Schedule an Appointment At
Maple Dental Office
Click here to learn more
Schedule an appointment at
Mapleview Dental Centre
Click here to learn more
Schedule your appointment Now