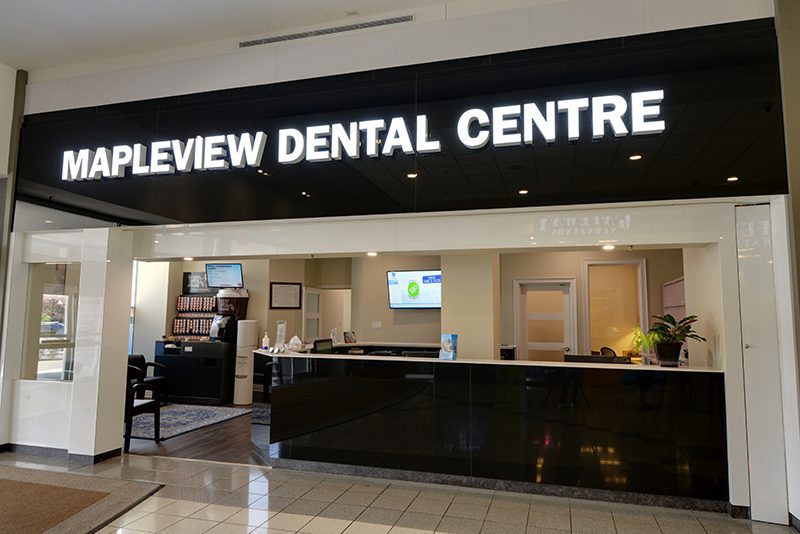 Welcome To
Mapleview Dental Centre
(In Mapleview Mall)
900 Maple Ave.
Burlington, ON L7S 2J8
Phone: 905-681-2700
Fax: 905-681-2981
Email: mv@mapleview-dental.com
Hours
Monday: 10:00 AM – 8:00 PM
Tuesday: 10:00 AM – 8:00 PM
Wednesday: 10:00 AM – 5:00 PM
Thursday: 10:00 AM – 8:00 PM
Friday: 10:00 AM – 5:00 PM
Saturday: 9:00 AM – 3:00 PM
Accepted Methods of Payment:


Brenda PRIEUR
July 27, 2022.
The best dental office Dr. Kapur and Wanda are a great team. They treat you like family. I enjoy their humour. Miriam is great always professional.
Pete Wignall
July 26, 2022.
Can't say enough good things about Dr. Kapur, Wanda and the entire staff at Maple Dental. They take the "fear" out of dental visits!
dennis smith
July 23, 2022.
Outstanding Dentist great job an the price is right
Jill Mitchell
July 21, 2022.
Just had a wonderful first visit at this dental office!! From the friendly front desk staff (I don't know them by name yet), Mariam the hygienist who was so lovely (best I've ever had) and Dr. Kapur is wonderful. He showed and explained clearly about what's happening with my teeth. I am so grateful and can't wait to go back:)
Jim Halliday
July 7, 2022.
As usual an excellent experience
Pat Ferguson
June 8, 2022.
This Dental office is amazing!! No pain!!!!!! The staff makes you feel so welcomed! Dr. Kapur is like a humorous big brother, and he has a very warm personality. I immediately felt at ease! His staff is very friendly and understanding as well. The atmosphere is very relaxed if you are the nervous type like myself, who do not visit Dentists very often. I highly recommend Maple Dental Office. It will leave you feeling confident that you have made the right choice. Thank You Maple Dental!!