Burlington's Laser Dentistry
Laser dentistry is incredibly versatile and plays an important role in a number of dental procedures including gum surgery and contouring as well as periodontal treatment.
Outstanding Quality of Care Completely Focused on You
Since 1990, dental laser treatments have been incorporated into everyday procedures- reducing bleeding, anxiety and post-treatment recovery times. The beauty of dental lasers is that they damage far less of the surrounding tissue than traditional techniques-which means less discomfort and pain.
The Benefits Associated with Laser Dentistry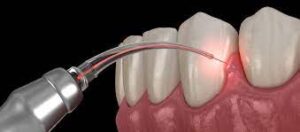 Faster healing and tissue regeneration
Preservation of more of the natural tooth
Reduced bleeding during and after treatment
Reduced need for anesthesia
Reduced need for stitches and sutures
Reduced risk of bacterial infections after procedures
Our precision laser techniques allow our team to be very precise and create a situation with less swelling and faster healing. The procedure takes far less time than conventional methods and results in far less anxiety and discomfort.
Schedule an Appointment At
Maple Dental Office
Click here to learn more
Schedule an appointment at
Mapleview Dental Centre
Click here to learn more
Schedule your appointment Now